Documentation
Content
Booking process
The booking process is generally designed to be very intuitive and convenient.
It is separated into three major steps. The steps are numbered from one to three and are displayed above the booking panel. The current step is highlighted.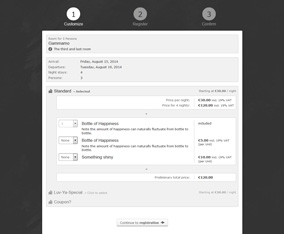 Customize
This is the first step after initiating the booking process by selecting a room, persons to be included and a arrival and departure date on the portal. These information are again displayed.
The customization page allows the guest to choose a bundle (if there are multiple) or provide a coupon code in order to reveal a special one. Since each bundle may have different products and pricings, the user will see those and, depending on the bundle, might customize which products and/or services to include in the booking.
After changing the choice of products, the panel will on-the-fly update the preliminary price.
Register
This is where the guest has to provide his personal data. He can optionally leave some notes.
The registration page also displays the payment options, where the guest has to choose one.
Depending on the payment option choosen, the next page will show different forms.
Confirm
The confirmation page displays a summary of the booking, its products and pricings.
If there are booking rules defined, the user has to accept those prior to completing the booking.
After completing the booking, the summary will be displayed again so that the guest can print the page for documentation purposes. Additionally, the system sends a confirmation email (if configured).
Created by: Tobias Krebs
Updated: August 2014